STIFF 2016 WINNERS / AUDIENCE AWARD

 …..
STIFF 2016 WINNERS / DOCUMENTARY
Jury for Documentary / Žiri za dokumentarni film : Sabina Krešić, Stuart Edwards, Valentina Botica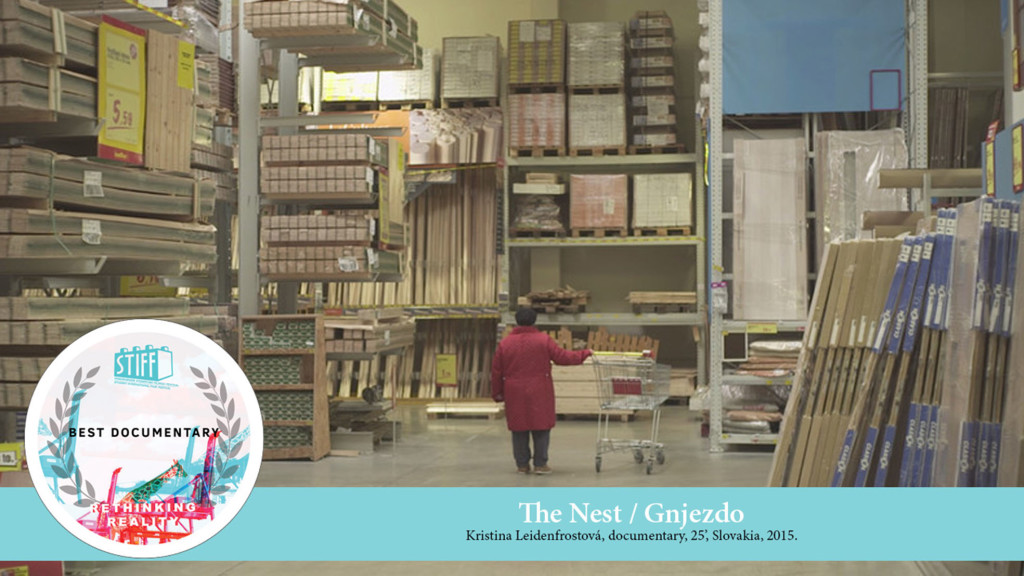 Explanation of the jury:
Očaravajući i ponekad komični pogled na dinamiku odnosa starijeg bračnog para kojima su djeca sve u životu. Pažljivo, odmjereno pričanje priče koje žonglira osjećajima tuge i humorom istovremeno postižući prekrasno vizualno iskustvo kroz suptilnu kameru i pažljivo odmjereni ritam.
A thoroughly engaging and at times hilarious insight into the intimate dynamics of an aging married couple, longing for purpose in the wake of their now grown children leaving home. A competently measured narrative that balances sadness & humor to the brilliant effect through subtle cinematography and well-crafted rhythm.

Explanation of the jury:
Na iznimno vjest, talentiran, poetski nacin, autorica koristi zvuk kao narativ uz jako lijepo snimljene kadrove i dobro odreden ritam.
In a very skilled, talented and poetic manner, the author uses sound as a narrative along with engaging cinematography and well-measured rhythm.
 …..
STIFF 2016 WINNERS / FICTION 
Jury for Fiction / Žiri za igrani film : Dejan Durić, Anja Kavić, Sendi Bakotić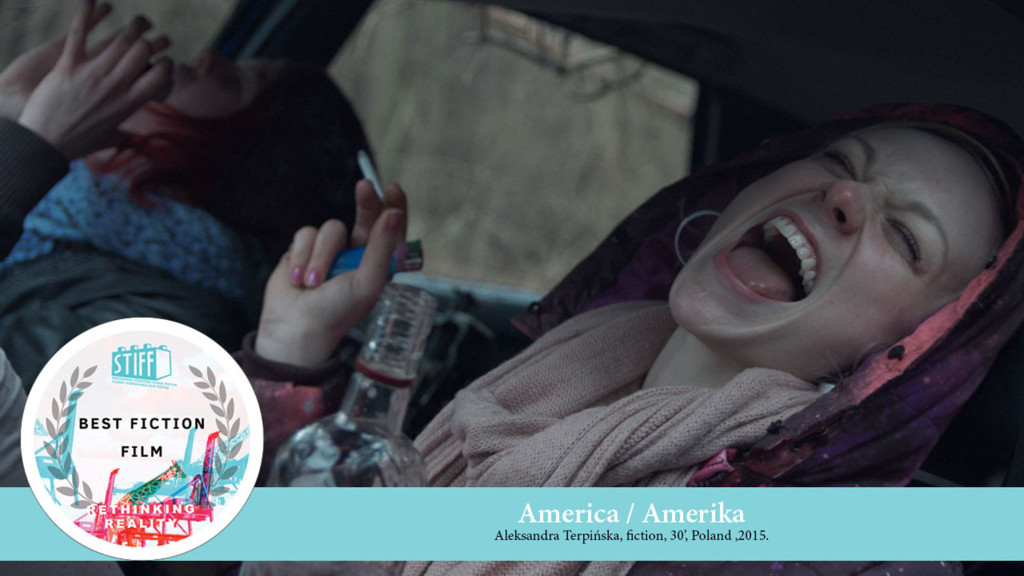 Explanation of the jury:
Dok gledate poljski film Ameryka Aleksandre Terpińske ne možete se oteti dojmu da svjedočite svojevrsnoj tinejdžerskoj inačici Thelme i Louise Ridleyja Scotta, ali smještenoj u oporu i neuglednu poljsku provinciju, odnosno učmali gradić koji se vrlo znakovito zove Ameryka. Maloljetne protagonistice Anka i Dzastina na pragu su odrastanja kada se teška stvarnost njihova okruženja ukrštava s romantičnim i idealizirajućim snovima o nekom drugom, uzbudljivijem životu daleko od obiteljskih problema i patologija provincije. Film predstavlja trostruko putovanje: jedno je konkretizirano u prostornom izmještanju iz ruralnoga u urbano te predstavlja pokušaj kratkoga predaha od svakodnevnih problema; drugo je psihološko jer upućuje na stjecanje iskustva i odrastanje, a s obzirom na prepreke s kojima se na njemu protagonistice susreću; treće je putovanje kroz popularnu kulturu, što je naznačeno pop glazbom koju junakinje slušaju te samom bijegu koji upućuje na američko, filmsko, odmetničko. Terpińska također vješto povezuje dvije razine. S jedne je strane posrijedi studija dvaju karaktera zarobljenih u socijalnim uvjetima ruralne sredine te kroz prizmu otkrivanja seksualnosti i stradavanje od njenih nasilnih oblika, u spletu ljudskih slabosti i neimaštine. S druge je strane pedanto, sporo i oporo seciranje okruženja, njegove ekonomske propasti, ljudi uhvaćenih u životarenju lišenom nade, smisla i svrhe. Izvrsno napisan i strukturiran scenarij, sigurna režija, odlična fotografija koja mračnim tonovima atmosferično ocrtava neuglednu i zaboravljenu provinciju te njezinu beznadnost, kao i uvjerljiva gluma dviju glumica upućuju na zaključak da je Ameryka umjetnički cjelovito i zaokruženo djelo.
While watching the Polish film Ameryka, you cannot help but feel as if you are witnessing a sort of teenage version of Ridley Scott's Thelma and Louise, one that is set in a grim and nondescript Polish province, a lifeless town with the telling name Ameryka. The underage protagonists Anka and Dzastina find themselves on the threshold of adulthood where the harsh reality of their surroundings merges with the romantic and idealized dreams about a different, more exciting life far removed from family issues and the somber provincial life. The film presents a threefold journey: the first is defined by the spatial shift from the rural to the urban and portrays an attempt at a temporary escape from daily problems; the second is a psychological journey as it involves new experiences and growing up, peppered with obstacles faced by the protagonists; the third one is a journey through popular culture, as indicated by pop music that the protagonists listen to, and by the escape itself, both of which point to the American, the cinematic, the rebellious. In the film Terpińska also combines two different levels with great skill. On the one hand, she offers a study of two characters trapped in the social reality of a rural setting, told through the lens of the discovery of sexuality and the suffering caused by its violent forms, all in the midst of human weakness and poverty. On the other hand, she slowly dissects the surroundings with precision and ruthlessness, as well as its economic ruin and the people barely scraping by without hope, meaning or purpose. The excellently written and structured script, confident direction, exquisite photography that uses gloomy tones to atmospherically depict the hopelessness of the nondescript and forgotten province, and the true-to- life acting of the two actresses leads us to the conclusion that Ameryka is an artistically well-balanced and complete work.

Explanation of the jury:
Sjajno provedena dvostruka perspektiva na kraju filma donosi strukturni preokret koji daje novi pogled na radnju i odnose među likovima, a tematski zaokružuje priču o sudaru ljudske sitničavosti i egoizma s jednostavnom borbom za život. Realistično ostvarena i potresna obiteljska priča odlično funkcionira uz uvjerljivu glumačku igru, vješto građenje tenzije i sjajnu fotografiju.
Masterfully done double perspective of the movie end brings a structural shift to the storytelling creating a completely new view on the action and on the relationships between the characters. This completes the story of the clash of human pettiness and selfishness with a simple struggle for life. Realistic yet touching family story, convincing acting, skillfully build tension and great cinematography.
 …..
STIFF 2016 WINNERS / ANIMATION 
Jury for Animation / Žiri za animirani film:  Jelena Oroz, Chintis Lundgren, Lucija Polonijo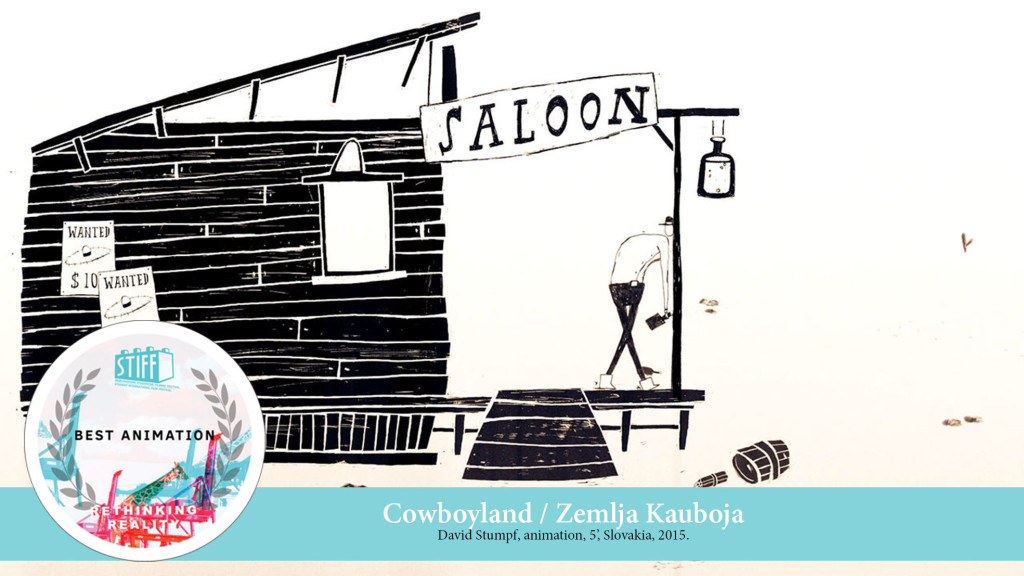 Explanation of the jury:
Ovaj film privukao nas je svojim crnim humorom i optimističnim pogledom na život. Oduševili su nas fantastični konji i odrešite kokoši. Svježi pristup vestern žanru, sjajan dizajn i odlična režija.
This film drew us in with it's dark humor and optimistic view on life. We were amazed by the amazing horses and the determined chicken. A fresh take on the western genre, great design, funny, clever and well directed.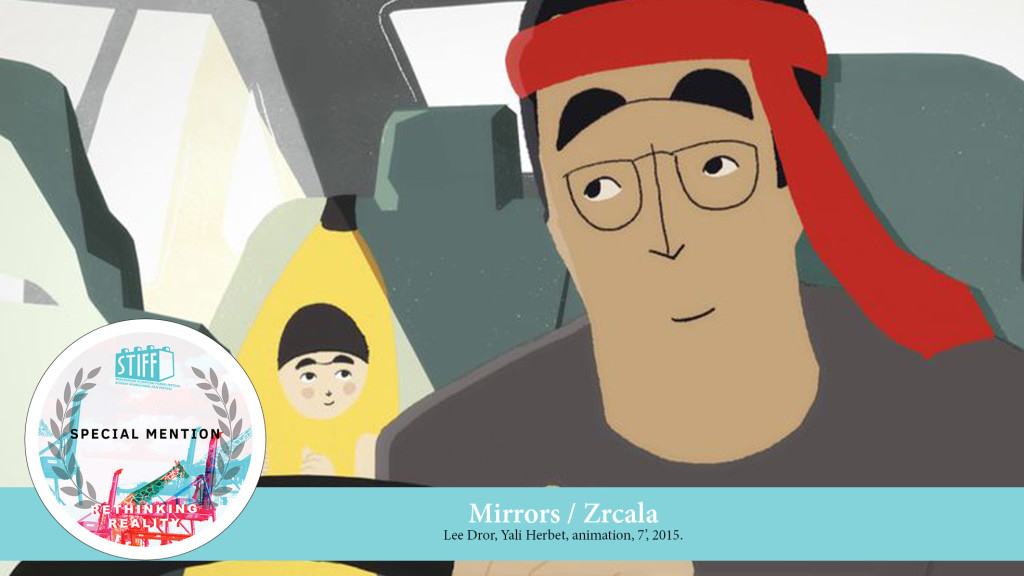 Explanation of the jury:
Jednostavna, ali razrađena priča s kojom se svatko može poistovjetiti.
Simple yet elaborate story that's familiar to all of us.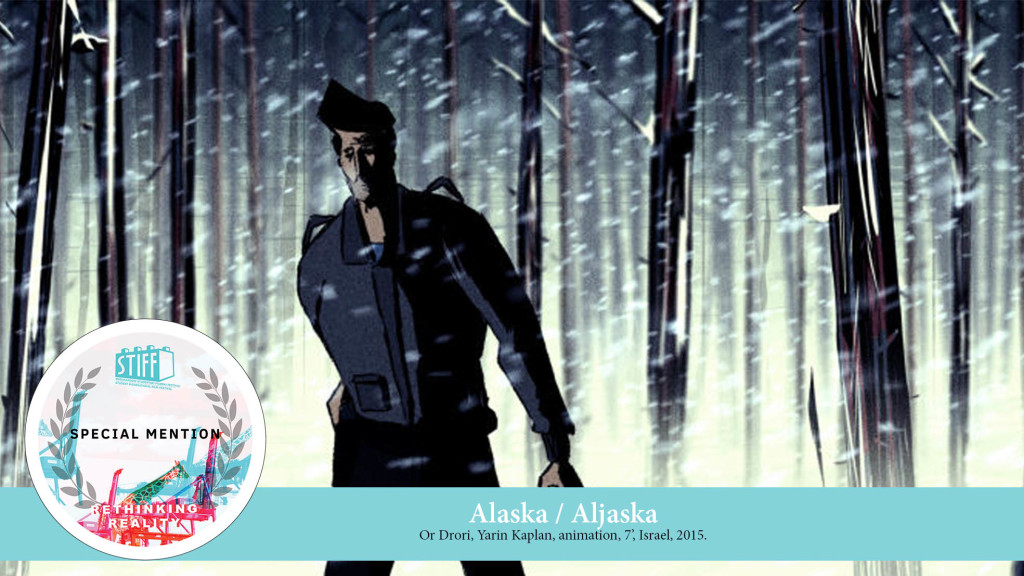 Explanation of the jury:
Atmosfera, priča, zvuk i vizual, zaokupili su nam pažnju tokom trajanja cijelog filma.
Compelling storytelling, captivating atmosphere, strong visuals and sound.
 …..
STIFF 2016 WINNERS / HOSTS

/
DOMAĆINI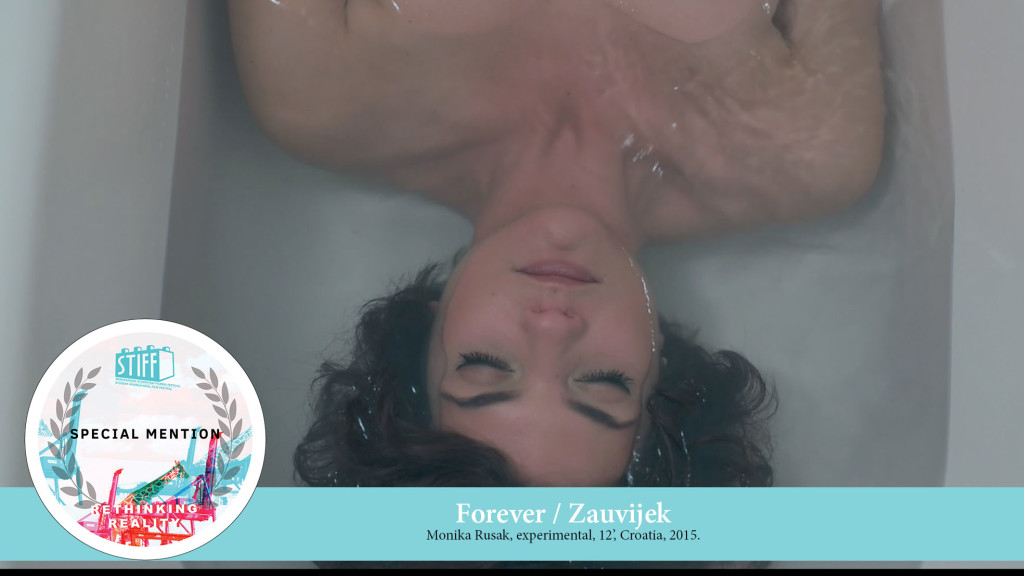 Nagrada selektora za najbolji film studenata Akademije primijenjenih umjetnosti Sveučilišta u Rijeci.
Selector's award for the outstanding work produced by a student from the Academy of Applied Arts Rijeka.
Categories: STIFF 2016